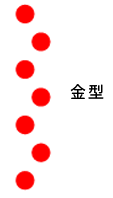 Punching patterns and feeding directions
・Metal mold and hole arrangement for 60° houndstooth punching
Mold arrangement in the case of houndstooth punching is shown in the right figure.
In this case, the shape of the first-perforated holes and that of last-perforated holes at both ends are different (holes are made asymmetrically) as shown in Figure 1.
Therefore, in the case of houndstooth pattern with different end shapes as shown in Figure 2, a one-line backfill is necessary.