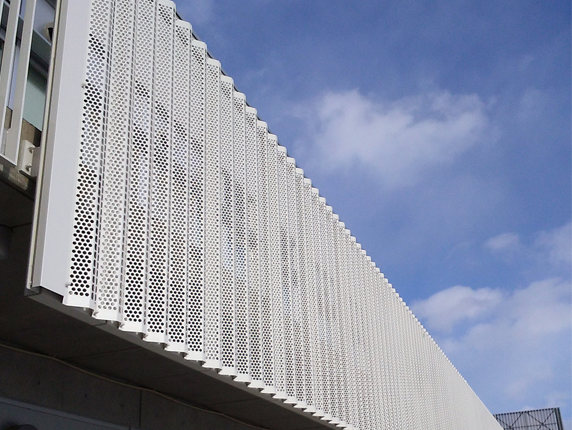 About Perforated bent plate
Holes made by punching and panel's trapezoidal cross section mitigate wind impact. Permeability obtained by punching provides ventilation effect and a sense of liberation.
Punching patterns: The rates of hole area range from 0 to 50%. Various types of punching molds are available. Three types of trapezoidal cross sections are available for panels.
Punching molds are manufactured by our company, so punching patterns in addition to those shown in our catalogues are also available.
Trapezoidal cross sections are realized by roll forming. We provide panels attractive also in terms of cost.
Zinc, aluminum and magnesium alloy plating, which is more weather resistant than typical zinc plating, is used for a perforated bent plate and an imperforate bent plate. The processing of polycarbonate, coloring by various types of baking finish or powder coating are also possible.